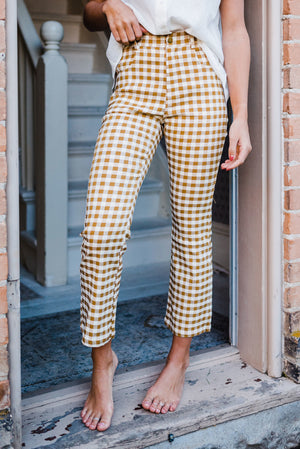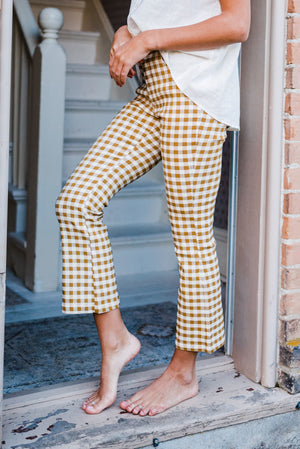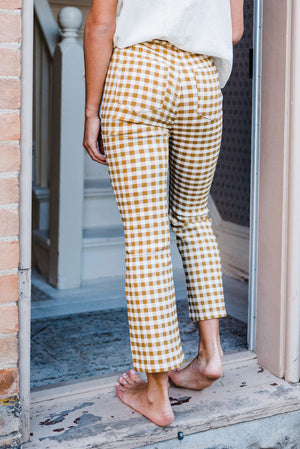 Aren't You Plaid Checkered Pants
You won't find the d&j team speechless…well ever. But these pants did it. Speechless, absolutely speechless! The silence in the air is filled with love, admiration, appreciation, giddiness, awe, more love, obsession and any other overly dramatic word relating to LOVE! If you still don't have them in your cart, let me go on. These insanely perfect plaid pants are sewn with actual magic (at least we are convinced)! Perfectly plaid checkerboard print, a woven fabric that fits like a glove on EVERYONE!! Belt loops! Side and back pockets that make your bum look insane! A killer fit with a flare at the bottom give them all the spunk! Here's a little secret too…..pair it with our cj button down with the fair isle sweater and your happiness (and style) will be at an all time high! Promise! 
70% rayon, 25% nylon, 5% spandex. Hand wash cold, hang dry is recommended. 
The model is 5' 7" and is wearing a small. Check out our general sizing guide if you're still not sure.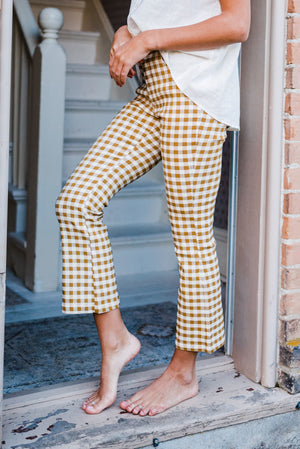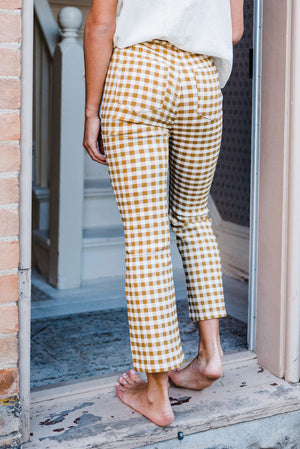 Love at first sight
I adore these pants. I have a capsule wardrobe and they are the perfect addition for both a neutral and statement piece! I got a M and am 120lbs but prefer a little stretch in my pants so sizing up was perfect!
Actual Perfection
I have the hardest time finding pants that fit me both in length and my waistline. I am 5'-0" and 125 lbs. and I ordered the mediums. These pants fit like a dream! There is a little elastic in the back of the waitline to tailor perfectly to your waist width, and the length is perfect! Can't wait to rock these all fall long!
Pants you need
I'm so glad these pants restocked. I've had my eye on them for a while and finally snagged a pair. They are super comfortable and I especially love the elastic band around the waste. Small fits me great.
Unique and flattering
These pants are so unique. I love them. They are flattering on me so I feel confident wearing them. They definitely will NOT hang in my closet unworn.
MY GO TO PANTS
I can't say enough goooood things about these pants. The fit is so cute! I love the little flare at the bottom! BUT my most favorite thing is, I find I can pair absolutely ANY top with them. It's a fun way to mix prints and patterns.