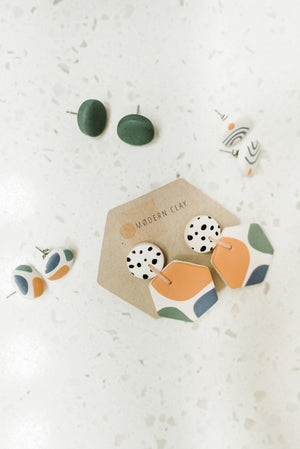 MODERN CLAY and dottie+jo bringing you yet another bomb piece to add to your wardrobe and your overall flare! You totally love us huh?! The insanely amazing color combo, mixed with a classic black and white basically makes them a neutral right?! (I really hope so, because you'll catch me wearing them with everything I own) The Sorrella's are handmade out of polymer clay and we have no doubt you'll be just as thrilled with them as we are! Read below for a message about materials and care of earrings, you'll be glad you did! 

Although I do my best to ensure there is consistency between pieces, no pair will be the same and slight variations in shape, size and color will occur. 
All earrings are made with hypoallergenic, stainless steel posts and backs which are accompanied with silicone bell backs as well. 
 C A R E   I N S T R U C T I O N S
Polymer clay is quite durable but please treat with care by storing in a safe space and avoid bending the clay.
Please refrain from submerging in water.
Avoid contact with sunscreen, moisturizer, makeup and perfumes.
To clean, spot treat with soap, water, and cloth.
For more intense stains you may use 100% pure acetone SPARINGLY. Please consult me via email or DM on instagram before attempting to clean with acetone. It will dissolve the clay if not used properly.